NORD ECO service Competent support for economical and energy-efficient drive systems


With its ECO service, NORD helps companies to find the most efficient drive solution for their application. Not only energy consumption and CO₂ emissions but also the costs for administration, maintenance and wear can be reduced by using suitable drive systems. The NORD ECO box can measure the energy consumption of individual drives in detail and allows for extensive data analysis.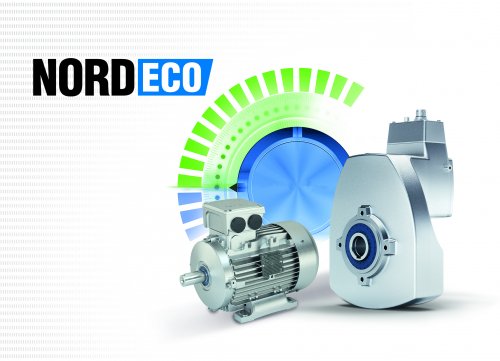 "The first step is the comprehensive collection of measurement values", Jörg Niermann, Head of Marketing at NORD, explains. "The NORD ECO box contains an energy measuring device that measures the drive's current and voltage. It determines the effective or reactive power, i.e. the energy actually used or not used, and from this calculates the relative power factor."

After installation of the NORD ECO box between the drive and power supply, data covering permanent loads, load peaks and irregular conditions is recorded over a period of two months. Measuring over the entire period creates a high density of data that can identify patterns and random outliers, allowing a load cycle of the entire system to be created.

Evaluation of the data
Once the survey is completed, NORD evaluates the data. The customer receives the evaluation in the form of a PDF document which presents the main key data.

In the evaluation of the results, the large amount of data recorded makes it possible to determine precisely whether the dimensions of a system meet the requirements of the respective application or whether the system is oversized, for example, which is particularly important when optimising for energy efficiency.

Reduction of variants
In large systems with numerous drives – such as in intralogistics – the NORD ECO service can help not only to optimise the power used by the individual drive systems, but also to reduce the number of different systems. This helps to further streamline production, logistics, storage and service processes. The high-efficiency motors from NORD provide a constant torque over a large speed range and are particularly suitable for a reduction of variants.
Together with the data evaluation, the customer receives a recommendation for an efficient NORD drive solution. The energy balance of the NORD solution is documented as part of a further measurement and the customer can see their increase in efficiency in writing.
"The NORD ECO service has already helped various customers to improve the energy efficiency of their production and thus to reduce their carbon footprint", says Niermann.
The video provides a simple explanation of the NORD ECO service: https://www.youtube.com/watch?v=n8tI-6Ah-7o

About NORD DRIVESYSTEMS
With approx. 4,700 employees today, NORD DRIVESYSTEMS has developed, produced and sold drive technology since 1965, and is one of the leading global full-service providers in the industry. In addition to standard drives, NORD delivers application-specific concepts and solutions for special requirements such as energy-saving drives or explosion-protected systems. In the 2021 financial year, annual sales amounted to 870 million Euros. NORD has 48 subsidiaries in 36 countries and further sales partners in more than 50 countries. They provide technical support, local stocks, assembly centres and customer service. NORD develops and produces a wide range of drive solutions for more than 100 industries, gear units for torques from 10 Nm up to over 282 kNm, supplies electric motors in the power range of 0.12 kW to 1,000 kW, and supplies the required power electronics with frequency inverters of up to 160 kW. Inverter solutions are available for conventional control cabinet installations as well as for decentralised, fully integrated drive units.
www.nord.com

NORD DRIVESYSTEMS Private Limited
282/2 & 283/2,Plot No.15,Village Mann, Taluka Mulshi, Adj.Hinjewadi MIDC Phase II, Pune 411057 Maharashtra INDIA
Dhamankar Snehal
Phone : +91 20 39801- 217
Fax : +91 20 39801- 416
Snehal.Dhamankar@nord.com

Getriebebau NORD GmbH & Co. KG
Getriebebau-Nord-Straße 1
22941 Bargteheide/Hamburg
Germany
Niermann Jörg
Phone : +49 45 32 / 2 89 -0
Fax : +49 45 32 / 2 89 -22 53
Joerg.Niermann@nord.com