The new MAXXDRIVE® XD industrial gear unit from NORD for lifting gear of all kinds
Lifting applications place special demands on the installation space for drives. With MAXXDRIVE® XD, NORD DRIVESYSTEMS has now developed an industrial gear unit with increased centre distance that is ideally suited to the U-shaped configuration of drive, motor and cable drum.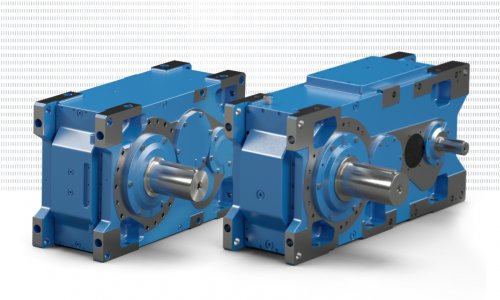 NORD-MAXXDRIVE-XD.jpg: The MAXXDRIVE® XD's housing was designed specifically for lifting applications and optimised for downward loads Image: NORD DRIVESYSTEMS

With the new MAXXDRIVE® XD industrial gear units the drive specialist from Northern Germany is closing a gap in its portfolio. "We can now offer our customers the complete package of running gear and lifting gear drives for cranes from a single source", said Jörg Niermann, Head of Marketing at NORD. As for all NORD gear units, the proven principle of robust one-piece UNICASE housing will be applied. During development, the MAXXDRIVE® XD's housing was specially designed for lifting applications and optimised for downward loads. The elongated arrangement of gear stages also enables a mechanical tailor-made dimensioning of the gear unit with sufficient centre distance – thereby avoiding an otherwise all too common overdimensioning.

Standardisation and reduction of variants
NORD currently offers the new MAXXDRIVE® XD in five sizes with centre distances between 509 and 963 millimetres. Also in versions with three or four gear stages. Housing dimensions and centre distance are identical for the three- and four-axle versions. This enables customers to standardise and reduce versions when construction their cranes. Thanks to the three and four stage version, MAXXDRIVE® XD covers very wide speed range with a maximum nominal gear ratio of i=355. The constant torque across the whole speed ratio guarantees a high efficiency while in use. "We are delighted that we are now able to also offer complete drive solutions in an economic and tailor made manner with our proven NORD quality standards", said Niermann.

Serial components for quick delivery
For the MAXXDRIVE® XD's components, NORD is using tried and tested standard parts from our proven range of industrial gear units. This offers customers a wide choice of options and guarantees short delivery time. Additionally, housing is also available with an inspection cover, enabling a visual check of internal components without having to remove the gear unit. It is available in grey cast iron (GJL) or nodular cast iron (GJS).

Industrial gear units for a wide range of applications
MAXXDRIVE® XD is suitable for use in lifting equipment in all kinds of cranes: From port and container cranes to overhead and gantry cranes but also for container and high bay coil storage. This makes it relevant for a wide range of industries, not just for ports, logistics and shipyards but also for metal, chemical and paper industry as well as mining and bulk goods transshipment.
NORD is presenting the new MAXXDRIVE® XD industrial gear units at bauma in Munich from 24th to 30th October 2022 in Hall/Stand A3.537.
Meta title: Industrial gear units for lifting drives from NORD

YouTube: https://www.youtube.com/user/NORDDRIVESYSTEMS

About NORD DRIVESYSTEMS
With approx. 4,700 employees today, NORD DRIVESYSTEMS has developed, produced and sold drive technology since 1965, and is one of the leading global full-service providers in the industry. In addition to standard drives, NORD delivers application-specific concepts and solutions for special requirements such as energy-saving drives or explosion-protected systems. In the 2021 financial year, annual sales amounted to 870 million Euros. NORD has 48 subsidiaries in 36 countries and further sales partners in more than 50 countries. They provide technical support, local stocks, assembly centres and customer service. NORD develops and produces a wide range of drive solutions for more than 100 industries, gear units for torques from 10 Nm up to over 282 kNm, supplies electric motors in the power range of 0.12 kW to 1,000 kW, and supplies the required power electronics with frequency inverters of up to 160 kW. Inverter solutions are available for conventional control cabinet installations as well as for decentralised, fully integrated drive units.
www.nord.com

NORD DRIVESYSTEMS Private Limited
282/2 & 283/2,Plot No.15,Village Mann, Taluka Mulshi, Adj.Hinjewadi MIDC Phase II, Pune 411057 Maharashtra INDIA
Dhamankar Snehal
Phone : +91 20 39801- 217 Fax : +91 20 39801- 416
Snehal.Dhamankar@nord.com

Getriebebau NORD GmbH & Co. KG
Getriebebau-Nord-Straße 1
22941 Bargteheide/Hamburg
Germany
Niermann Jörg
Phone : +49 45 32 / 2 89 -0
Fax : +49 45 32 / 2 89 -22 53
Joerg.Niermann@nord.com