EPLAN enters into technology partnership with Dassault Systèmes
The digital transformation can only become reality with networked systems, end-to-end data and close cooperation between manufacturers. To this end, EPLAN founded the Partner Network in late 2020, which currently has 65 manufacturers as members. One of the newer additions is the international technology company Dassault Systèmes, which joined the network as a partner in April of this year. The interface between the EPLAN Platform and the 3DEXPERIENCE platform of Dassault Systèmes will thereby be systematically expanded by both parties working together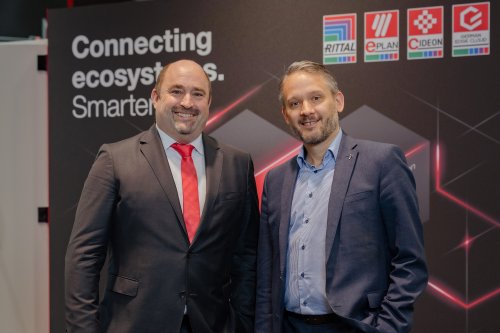 EPLAN & Cideon CEO Sebastian Seitz (at left) and Dassault Systèmes Managing Director Eurocentral Dominic Kurtaz are certain that the deep integration of EPLAN and the 3DEXPERIENCE platform will considerably increase process efficiencies for common clients.
Monheim, Germany – It was made official on the first day of the Hannover Messe: EPLAN and Dassaults Systèmes have entered into a technology partnership as part of the EPLAN Partner Network, whereby both parties will be working on expanding the interface between EPLAN and the Dassault Systèmes 3DEXPERIENCE platform. The goal is seamless integration of electrical engineering and fluid-power technology in the context of product development. Dassault Systèmes Managing Director Eurocentral Dominic Kurtaz and EPLAN & Cideon CEO Sebastian Seitz signed the agreement in Hanover, Germany. The partners will beneficially be contributing their expertise in the interests of their shared clients, thereby enabling companies to set up end-to-end digital development processes.

Aiming for higher process efficiencies
Sebastian Seitz explains: "With the bidirectional interface between the EPLAN Platform and the Dassault Systèmes 3DEXPERIENCE platform, we're increasing the process efficiencies of our common clients. When all systems are bidirectionally connected – ECAD, ERP and PDM, for instance – users are workly in a truly interdisciplinary manner and thus much more efficiently."

"With this partnership, we support our joint customers in achieving new dimensions of efficiency and productivity when it comes to holistic product development based on the creation and capitalization of virtual twins," adds Dominic Kurtaz, Managing Director EURCENTRAL, Dassault Systèmes. "The bidirectional interface simplifies numerous processes and creates new collaboration opportunities for our customers. We are therefore delighted to take this groundbreaking step together with EPLAN."

The partnership will be expanded in the coming months. Both companies are working in tandem to further optimise the interface – the PLM 3DEXPERIENCE Connector – and provide new solutions for digital product development in the cloud environment. A joint demonstration environment is also planned as part of the Engineering Collaboration Network (www.ecn-online.com) with videos and sample data in the PLM cloud environment, as well as joint interaction on customer projects.

Bidirectional coupling of engineering and PLM
The interaction of EPLAN and the 3DEXPERIENCE platform allows that the data management processes for electrical engineering and fluid-power engineering can be automatically controlled. What's special about it is that access to the Dassault Systèmes cloud-based platform is available directly in EPLAN Electric P8 and EPLAN Fluid. For instance, components lists and bills of materials can be synchronised with just one click. For users of both platforms, automating routine processes makes everyday work even easier – common operations such as searching for, finding and creating projects, checking in or out of them, or exporting EPLAN project pages into neutral formats are all carried out much more efficiently with the interface. Fast and easy document generation in particular will save users both time and effort, since all that is needed to output in neutral formats is a checkmark when checking in. The neutral formats are then automatically linked to the associated EPLAN project.

EPLAN and the 3DEXPERIENCE platform have bidirectional communication. Checking into projects from EPLAN on the platform is automated, as is opening projects from the PLM system. Important descriptive PDM attributes, including information for the drawing header (as an example), can be added companywide in the 3DEXPERIENCE platform and are automatically available during the next checkout of the EPLAN project. Furthermore, the software supports traditional PDM functionality such as the approval or transfer of documentation to manufacturing.

About Eplan Software & Service

EPLAN provides software and service solutions in the fields of electrical, automation and mechatronic engineering. The company develops one of the world's leading design software solutions for machine and panel builders. EPLAN is also the ideal partner to streamline challenging engineering processes.

Both standardised as well as customised interfaces to ERP and PLM/PDM systems ensure data consistency along the whole value chain. Working with EPLAN means boundless communication across all engineering disciplines. No matter whether small or large enterprises: Customers can apply their expertise more efficiently. Worldwide, EPLAN supports 61,000 customers. EPLAN wants to grow further with customers and partners and pushes integration and automation in engineering forward. Within the EPLAN Partner Network, open interfaces and seamless integrations are realised together with partners. "Efficient engineering" is the focus.

EPLAN was founded in 1984 and is part of the owner-operated Friedhelm Loh Group. The Friedhelm Loh Group operates worldwide with 12 production sites and 94 international subsidiaries. The entire group employs 11.600 people and generated revenues of around €2,6 billion in 2019. For the 13th time in succession, the family business has won the accolade "Top German Employer" in 2021. In addition, Friedhelm Loh Group was recognized as "Top vocational trainer" according to a study of Deutschland Test and Focus Money.
For more information visit:

www.eplan.de and www.friedhelm-loh-group.com

EPLAN Software & Services Private Limited,
NCC Urban Windsor, 3rd Floor, New Airport Road, Opposite Jakkur Aerodrome, Bengaluru 560064
Krishnappa Sindhu Phone : +91 9686 550509
E-mail: Sindhu.K@eplan.in