Hydrogen: The Key to the Energy Transition
Anyone who wants to curb climate change will not be able to avoid hydrogen. The first element of the periodic table is a key factor in decarbonizing transport and industry—provided that the gas has been extracted without CO2 emissions. The value chain from the wind turbine to the hydrogen filling station is long, and it is replete with technical challenges.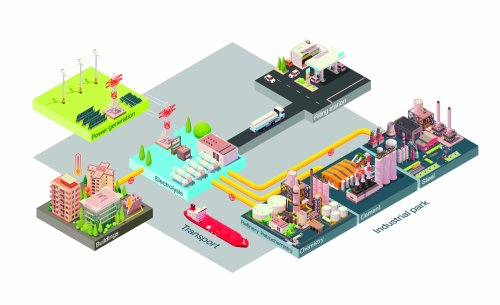 Pepperl+Fuchs offers the right sensors and components for explosion protection along the entire hydrogen value chain.
Decarbonization will bring about numerous changes, especially in the way we generate, store, distribute, and consume energy. "Green" hydrogen will play a fundamental role in producing energy and decarbonizing industry and heavy-duty vehicles in the future. To ensure that automated processes are safe, explosion-protected components and sensors with a variety of different functions are required.
Pepperl+Fuchs has many years of experience in the field of explosion protection and industrial sensor technology, making it the right partner and a binding element in the hydrogen chain—from generating renewable energy, high-pressure compression after electrolysis, transport, and storage through to large-scale industrial use and hydrogen filling stations.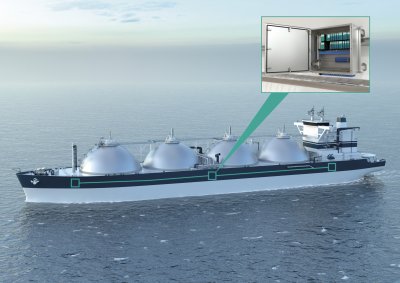 As with LNG (Liquified Natural Gas), explosion protection components such as the Remote I/O or purge and pressurization systems ae used when transporting liquid hydrogen.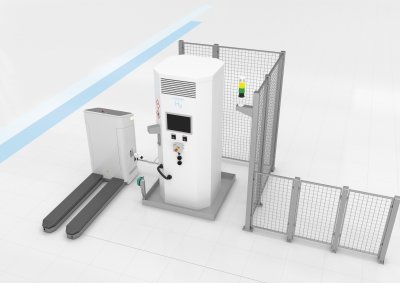 RFID components ensure reliable tank identification. A high-resolution monitor of VisuNET FLX series guides through the fueling process.
About Pepperl+Fuchs
With 6600 employees worldwide, Pepperl+Fuchs recorded sales of EUR 790 million in 2021. The Pepperl+Fuchs Group is one of the leading companies for industrial sensor technology and explosion protection. The headquarters in Mannheim, Germany, represent the core of the company's technical expertise, where engineers and specialists research and develop the latest technologies and products. Originally a small family business founded in 1945, Pepperl+Fuchs is now represented on all continents by more than 40 subsidiaries. Our global presence gives us the best of both worlds: the highest technical standards plus efficient, cost-effective production facilities. Pepperl+Fuchs has developed into a partner for worldwide users of automation technology, and offers the most comprehensive portfolio of tried-and-tested components for the demands of manufacturing automation and process automation.

Pepperl+Fuchs (India) Private Limited,
Plot#10, 3rd Main, 1st Stage, Peenya Industrial Estate,
Bangalore - 560 058 INDIA
SALES DEPARTMENT
Phone : + 91 80 2837 8030 Fax : + 91 80 2837 8031
pa-info@in.pepperl-fuchs.com